American Gaming Systems(R) (AGS) Announces Licensing Agreement for Are You Smarter Than a 5TH Grader?(R)
(September 27, 2012)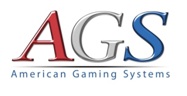 LAS VEGAS, NV -- (Marketwire) -- 09/27/12 -- AGS®, a leading designer, manufacturer and operator of gaming machines with more than 7,500 installed gaming machines, announced today that:
AGS has entered into an exclusive licensing agreement with One Three Media (a Hearst / Mark Burnett company) for the development of gaming devices based on the popular hit television show ARE YOU SMARTER THAN A 5TH GRADER? (5th Grader).
5th Grader is the second licensed brand secured by AGS over the last 12 months. "Our development team is eagerly working on taking the elements of 5th Grader from a television based game show and converting them into a dynamic and interactive trivia based gaming device unlike any other in the gaming industry," said Olaf Vancura, Vice President of Game Development at AGS. "5th Grader has made it fun to question ourselves in terms of what we know or may have forgotten. Do we really know more than grade school students? Slot players everywhere will soon be able to find out with actual questions from the hit show and with real money at stake!"
With its proprietary 3-D graphics engine, AGS' Roadrunner™ platform, which features an accelerated video frame refresh rate, producing crystal-clear graphics and superior game-play features, will power the ARE YOU SMARTER THAN A 5TH GRADER? game. Roadrunner also allows AGS to develop both Class III and Class II titles that give players the same entertainment experience and boosts AGS' commitment to support its Class II customers and markets.
Are You Smarter Than A 5th Grader? premiered on FOX in 2007 and had FOX's highest rating for a non-special in its timeslot since 1999. The game show has been distributed in more than 150 countries worldwide. The 5th Grader brand is well recognized and its merchandise licensing program has produced more than $80M in wholesale sales.
With roots in the gaming industry dating back to 1996, AGS' current portfolio of products includes Class III and Class II machines, Class III and Class II server-based gaming and wide-area progressives. Privately held, AGS is a leading designer and manufacturer of Class II gaming machines for the Native American gaming market with an emerging presence in a broad range of commercial markets in the United States. AGS has sales, service, development or management locations in Nevada, Illinois, Oklahoma and Canada.
To learn more about AGS, please visit us at www.americangamingsystems.com.
ABOUT ONE THREE MEDIA
One Three Media, a joint venture between Hearst Corporation and Mark Burnett, develops, produces and distributes original unscripted, scripted and digital content for major networks, cable channels and other exhibitors around the world. Four-time Emmy Award winner Mark Burnett, who is the president of One Three, has produced over 2,200 hours of television programming, airing in more than 70 countries worldwide. Are You Smarter Than A 5th Grader and all related logos and slogans are trademarks of One Three Television, LLC. All Rights Reserved.
Cautionary Language
This press release contains forward-looking statements based on management's current expectations and projections, which are intended to qualify for the safe harbor from liability established by the Private Securities Litigation Reform Act of 1995. The words "believe", "will", "expect", "continue", "intend", "plan", "seek", "estimate", project", "may", or the negative or other variations thereof or comparable terminology as they relate to AGS and its products, plans, and markets are intended to identify such forward-looking statements. All forward-looking statements are based on current expectations and projections of future events.
These forward-looking statements reflect the current views, models, and assumptions of AGS, and are subject to various risks and uncertainties that cannot be predicted or qualified and could cause actual results in AGS' performance to differ materially from those expressed or implied by such forward-looking statements. These risks and uncertainties include, but are not limited to, the ability of AGS to maintain strategic alliances, unit placements or installations, grow revenue, garner new market share, secure new licenses in new jurisdictions, successfully develop or place proprietary product, comply with regulations, or have its games approved by relevant jurisdictions. All forward-looking statements made herein are qualified by these cautionary statements and there can be no assurance that the actual results, events or developments referenced herein will occur or be realized. Readers are cautioned that all forward-looking statements speak only to the facts and circumstances present as of the date of this press release. AGS expressly disclaims any obligation to update or revise any forward-looking statements, whether as a result of new information, future events or otherwise.
Add to Digg Bookmark with del.icio.us Add to Newsvine
Media contact:
Paul Lofgren
(702) 722-6700, ext. 1116


Copyright @ Marketwire
Page: 1
Related Keywords:
American Gaming Systems (AGS), Game Development, Management, Programming, language, Authoring/Programming, Game Development, Canada, USA, Marketwire, Television, Entertainment, Other,
---